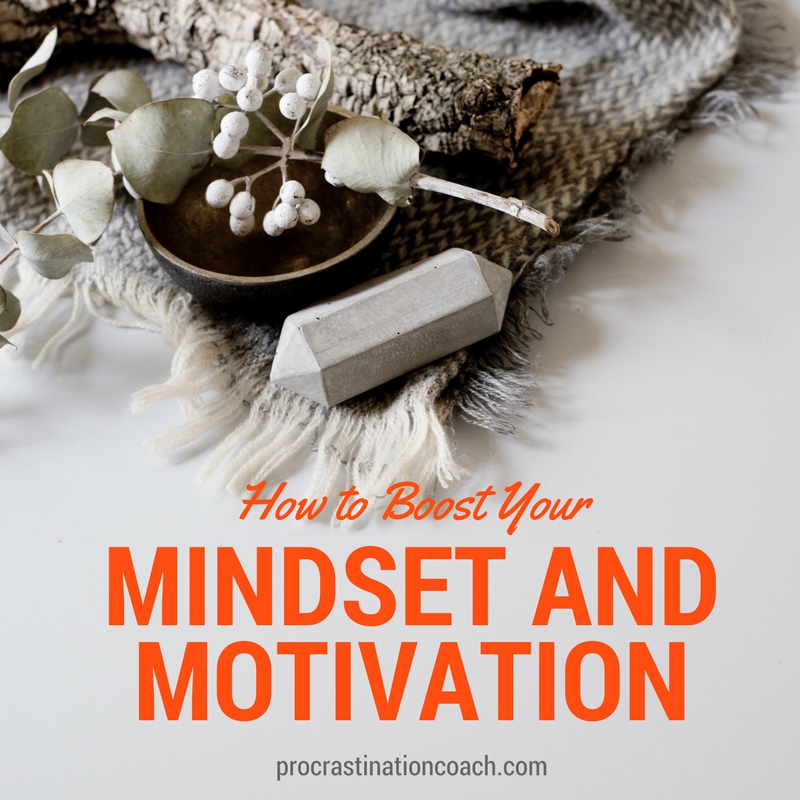 I have learned over years of coaching and counseling many clients, that it is of utmost importance to understand the nature of a person's mindset before trying to help them with anything else.  Without knowing what kind of mindset the client has and understanding how it operates, any efforts at behavior change will likely fall flat, or worse, be demoralizing and lead to even more frustration for the client.  
Taking a hard look at our mindset can be a tricky affair though.  We believe, in our heart of hearts, we are trying our best to keep ourselves at our best.  That makes it difficult for us to see how we might be blocking our own progress with the negative messages we sometimes give ourselves.
Here are some questions to ask yourself if you're curious about what your mindset has been doing for you:
What messages am I telling myself?

 

How am I coaching myself — to succeed or to avoid failing?

What kind of mindset to I possess — a positive, forward-looking mindset or a negative, fear-based mindset?

What kind of future am I predicting for myself?  

What factors in my past have caused me to feel the need to coach myself in this way?

What do I fear when I think about letting go of my current negative mindset?

 

What do I think is going to happen?
Often the answers to the questions above are pretty frightening.  Frighteningly negative, that is.
For instance, the internal coaching conversation might sound something like this:
"Although you were a star student when you were younger, things have gotten a lot more competitive.  Your work better be better than you can even imagine before you put it out there."
"If I finish my work and submit it, then I might actually confirm what I have been fearing all along — that I am not good enough, and that I am definitely not as talented as my friends clearly are."
"I need to deal with myself incredibly harshly because that has gotten me far in the past.  I don't know if I could even get anything done if I stopped being so self-critical."
"I don't really know what will happen if I change my way of doing things.  I'm too afraid to find out."
The general tone of these conversations is strongly negative.  It also feels as if the conversations can only go one way — down into deeper negativity.  It is no wonder we can't make new changes, get our work done, or concentrate well when we are steeped in negative thinking about ourselves and our future.  It would seem as if we lacked motivation, when really we're just scared to act on our motivation.
A negative mindset insists that we keep ourselves rooted in anxiety and fear.  There's little hope for real progress and growth when the negative mindset dominates our thinking.
The good news is, if you have a negative mindset, there are great ways to start looking at your situation in a fresh light.  Here are a few options:
Read a book to be influenced by others' experiences.  One book you might start with is The Secret from Rhonda Byrnes.

 

This is a book I recommend to clients who are mired in negative thinking and can't seem to find another way.  The messages in The Secret tend to make you worried about having a negative mindset any longer.
Find a simple place to start.

 

Since negative thinking tends to cause us to feel burdened, we need to find a simpler way of getting things done so we can feel the benefits of being active again.

 

You could take a quick walk around the block.

 

You could decide to study outside your apartment.

 

You could set a small goal that will take 15 minutes and get that goal accomplished.  Don't let your thinking block you from the things you can do very easily and well.  
Do something for someone else.  Send a text message to check in on a friend.

 

Meet up with someone for a quick lunch for fun.

 

Just get out of your own head.

 

Chances are you'll find a more positive outlook if you do.  
Declare a restart.  Remember that at any point of the year, month, week, or day, you can decide to do things a little bit differently.

 

No one has to know you are about to do a total reboot.

 

Just you.
Find support.

 

If you feel like you are caught in your negative thinking pattern for the long haul, I urge you to seek support.

 

Time is too precious a thing to waste, and your life and sense of well-being are worth whatever efforts you might need to make to reclaim them.

 

Find a therapist or coach, mentor, or friend who might be able to lend their expertise and support to you while you figure out the best way to move ahead.  
There are so many options for you.  Unfortunately, it sometimes seems easier to stay hidden undercover where no one can find you than to show up as yourself.  It can feel too overwhelming to make changes even though you know you need and want to make them.
I want to assure you that your desire to feel better about yourself is the positive message you should be listening most closely too.  The internal knowing you naturally have will keep you grounded and safe as you go.  It will guide you into the new territory, both externally and internally, you've been meaning to see.
Before you go:

If you are interested in receiving support from me in your efforts to combat Procrastination, I encourage you to consider joining me in my Freedom from Procrastination Membership Program.  The Membership Program has been up and running smoothly for about 3 months, and through it I've learned that the twin superpowers of having accountability and community can really supercharge everyone's ability to make the changes they need to make.  For more information about the Membership Program, please read more here.