CLICK HERE TO BUY OUR NEW E-BOOK (AUTHORS: LI & ELKINS) – $4.99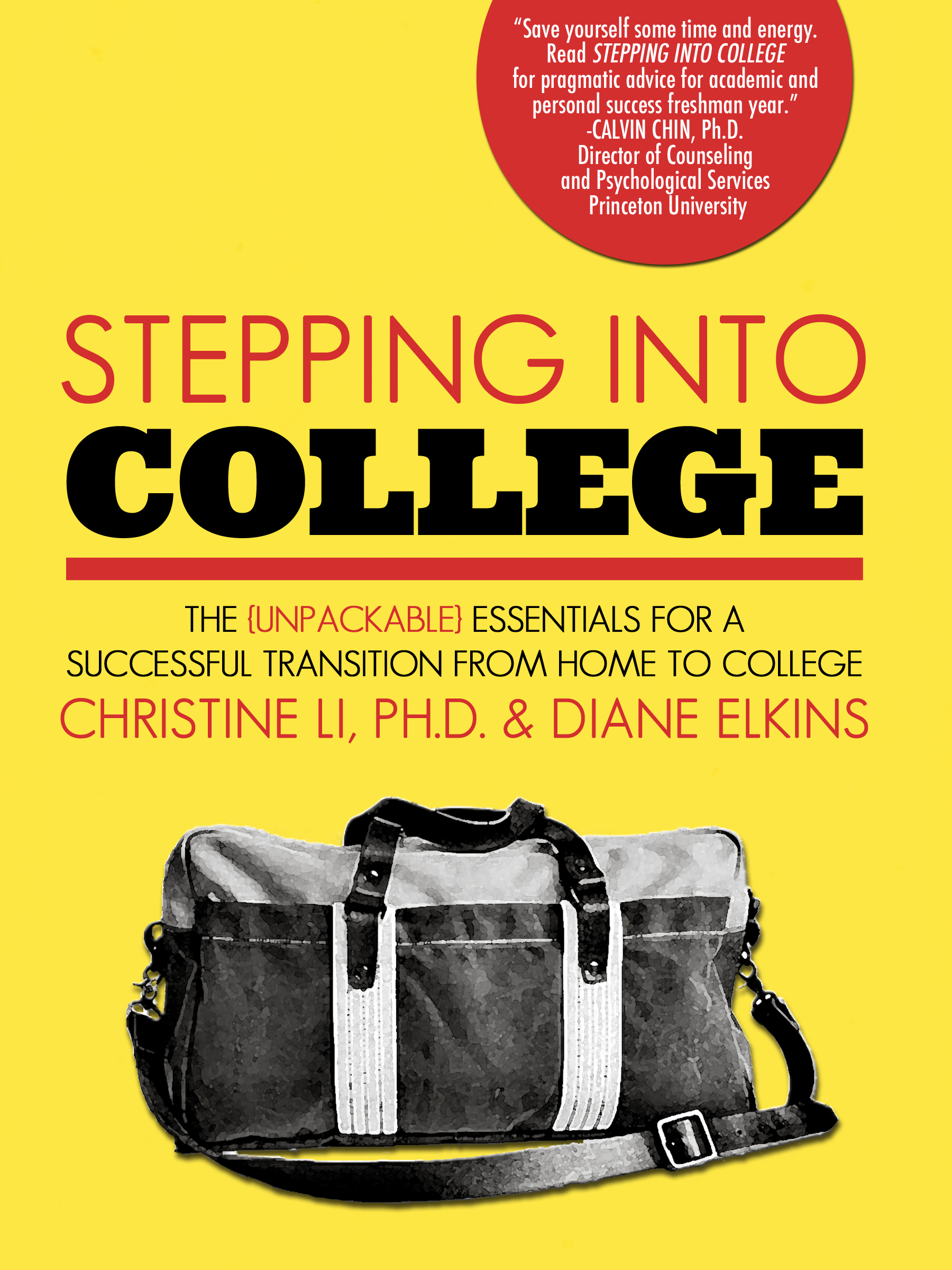 STEPPING INTO COLLEGE is a guide for all incoming freshmen who would like to be more prepared than scared when starting their time in college.  This book provides students who are about to step into college relevant information about the challenges of freshman year and pragmatic advice on how to face them.
About the Authors and What's Inside:
Diane Elkins, an expert on workspace organization and mother of three children who have gone through the college entry process successfully, and Christine Li, Ph.D., "Procrastination Coach" and clinical psychologist who specializes in helping college and graduate students adjust to the demands of academic life, combine their voices and expertise in STEPPING INTO COLLEGE.  As a result, you'll find information on many different topics, including:
how simplicity and organization can support your academic progress
how to avoid common freshman year pitfalls, like procrastination and feeling overwhelmed
ways to develop healthy relationships with new friends while maintaining good ones with family
ideas for ways to engage in the campus community
tips for balancing your time and preserving your energy
guidance on being mindful of finances and spending habits
and of course, suggestions for a packing list for your dorm room!
Our Message to You:
We wrote STEPPING INTO COLLEGE with both students and parents in mind, as going to college is certainly a journey for both.  The book contains many talking points for students and parents to consider.  We highlight the simple, meaningful ways students can feel like a success, even in their first few weeks at school, and can lay solid groundwork for even more good feelings moving forward.  We wish you all the very best.
CLICK HERE TO PURCHASE THE E-BOOK ON AMAZON/KINDLE – $4.99
Follow Us on Twitter and Pinterest too!